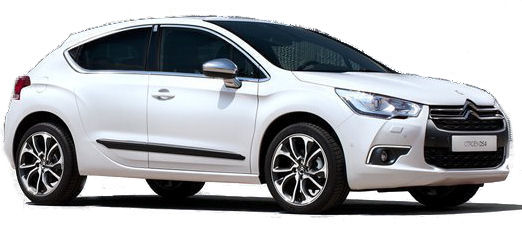 To get a legitimity in the premium automotive segment (generating much higher margins, hence profits, and only way to survive the coming of indian or chinese car in western markets), CitroŽn did not choose to launch a new brand, like did its japanese competitors Toyota with
Lexus>, Nissan with
Infiniti
. Indeed, create a new brand from scratch demands lots of money for creating the brand image, developping commercial network... and a start with no brand recognition.
Therefore, CitroŽn choose to create a new serie called DS, based on its glorious past: CitroŽn DS is maybe the only french car famous in the USA..
Will CitroŽn capitalizes on this DS launch to start a comeback on american's soil? Time will tell...
After the
CitroŽn DS3
, CitroŽn will sell a CitroŽn DS4.
This CitroŽn DS4 is a crossover, so a higher car, with lots of space inside, but very dynamic in its design. CitroŽn DS4 will have 5 doors, and will be built on the platforme of the second generation of CitroŽn C4. Compared to the CitroŽn C4, the DS4 will have more technologies, will be more premium, with LED lights and a huge panoramic glass roof.
This CitroŽn DS4 was announced at the end of 2009 by the concept car CitroŽn DS High Rider. The name
High Rider
reflects the crossover nature of this DS4.
Major difference between the concept car High Rider and the CitroŽn DS4: the number of doors. 3 doors for the High Rider, 5 for the DS4. Great trick: the shape of the lateral windows is a reminder of the first generation of CitroŽn C4 Coupť, and is hiding the door opening mechanism.